Who says? TRUSTe, that's who! So if your anti-virus program has ever detected FreeRide Games as a threat, we'd like to assure you that the FreeRide Games Player and games are safe to download and we guarantee that our service is virus and spyware free.

All downloads from www.FreeRideGames.com use our TRUSTe certified installer, EXEtender Player. TRUSTe is an important organization that partners with major online consumer portals and other industry leaders in order to develop safe download standards and certify downloadable consumer desktop applications. You can learn more about the Trusted Download Program.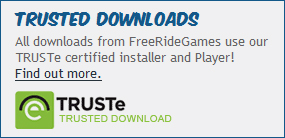 Our Security team works closely with many anti-virus software providers to make sure they support the latest versions of the FreeRide Games Player, so if your anti-virus program is detecting our Player or games as a threat, you might want to check whether you have the latest versions of both your anti-virus software and our Player.
Here are some handy Q&A's you may find interesting in relation to this matter:
What is an anti-virus?
Anti-virus software is used to protect your computer from harmful programs by preventing them from being installed and removing them if they perform a harmful operation.
What is a Firewall?
A Firewall is a type of software that monitors the Internet traffic on your computer and blocks harmful programs from accessing your computer from the Internet.
What is a Security Pack?
A security pack is a bundle of security software from the same brand. A security pack may include an anti-virus a firewall and additional software as well.
How can I tell what security software is installed on my computer?
Go to your computer's start menu –> Settings –> Control Panel –> Security center
Or
Press the "Start" key simultaneously with the "R" key –> write "control panel" and click ok –> Security center.
What is a "False positive"?
A "false positive" – also known as a false detection or false alarm – is when antivirus software identifies a non-malicious file as a virus.
False positives usually occur when an antivirus program detects a known virus string in an uninfected file. The file, while not infected with an actual virus, does contain a string of characters that matches a string from an actual virus.
A false positive can also occur when a program performs an action, which appears to the antivirus program to be a virus-like activity.
Why our software may mistakenly be detected as harmful?
Some security software may detect our games as a threat because of their copy protection system, or our Internet based delivery system. We work with many anti-virus software providers to ensure that they support the latest version of the FreeRide Games Player in order to prevent such threat detections. We assure you that our games and software are not harmful in any way.